What We Do:
Technipunch has as its core focus the use of CNC sheet metal punching and bending technology in the manufacture of precision basic metal components for the sheet metal industry.
However we also offer a whole range of other complementary services and products:
Quoting:
Our goal is to return all quotes within 24 hours. This ensures that the overall lead time is kept as short as possible. Your quote will be done by a qualified engineer which ensures that you will be guided to most cost effective way of manufacturing.
Product design:
If you require your product to be designed by Technipunch, we can offer you a 3D design option. The engineer that quoted you will do the design, this ensures quick and accurate designs.
The quickest turn around time would be, if the customer can supply us with a DXF or a DWG AutoCAD file.
Out Sourced services:
Due to the economies of scale, we are able to negotiate cost effective and quality sub contracting. We offer the following sub contracting services;
Powder coating
Anodizing
Electroplating
Alodining
Silk screening
Stud welding
Laser cutting
Assembly:
Our objective is to offer the customer a one stop shop, so we would complete the product up to the assembly phase.
This means that we will supply and fix all hinges, latches, gasket, locks ext. The product will then be packaged and delivered.
Our Machines:
CNC (Computer Numerically Controlled) Punching and Bending:
The use of CNC punching and bending technology and machinery, means that our products conform to the strictest requirements in terms of quality, consistency and precision. The equipment at our disposal also means that we are capable of producing virtually any custom sheet metal product, no matter how intricate.
Punching: Trumpf Trumatic TC1000R (2007 Model)
10 hits per second punch rate.
21 hits per second engraving rate.
Various forming options like; 20/27mm knock out, Cable tie tabs, Flairing for steps and walk ways and Louvre tools ext.
Our punch range is from 0.5mm to 3.0mm on Mild steel and Stainless steel. On Aluminium we can punch up to 6.0mm.
Bending: Trumpf Trumabend 3120 (2007 Model)
0.5mm to 4.5mm thick sheet metal bending.
3 meter wide.
120 tons over 3 meters.
Insert press: Heager 618 with feeder bowl
Cold press nuts, studs and standoffs. Form M2.5 to M10
6 tons pressure.
The feeder bowl ensures cost effective pressing on high volumes.
Welding:
Mig 250 amp, quick cost effective mild steel welding.
Tig 200 amp for neat Stainless and Mild steel welding.
Tig 250 amp (ACDC) for Aluminium welding.
Milling machine:
Neat tapping and counter sinking.
Rolling machine:
1500mm Wide with 80mm rollers.
Rolls up to 2.5mm steel.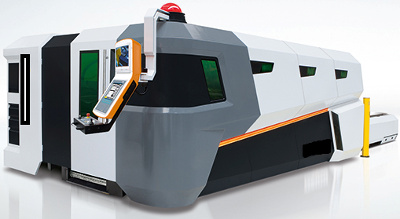 Watch video of 3Kw Fiber Laser
3Kw Fiber Laser:
Sheet size: 3000x1500
Cutting speed: 37 m/min (thin sheet)
Accuracy: 0.1mm
Mat: Mildsteel 16.0mm
Stainless Steel 8.0mm
Aluminium 6.0mm
Brass 4.0mm
Copper 3.0mm
Galvanize 3.0mm